If you are spoilt for choice with our range of beers, a surprise subscription box is perfect for you. By joining the Belgian Beer Club you can find yourself receiving mystery box full of unique beers. Every month we piece together a selection of different beers we think are a must try. That's right, every month.
Included in the box will be the finest Belgian beers on the market. Ranging from blonde, wheat, fruit and more we have you covered! With your subscription you will not have to choose between the beers which you like the look of, we do it for you. Delivered straight to your door on a monthly basis, its that simple! If you are a beer enthusiast the mystery box will be something you look forward to.
The Belgian Beer Club Surprise Subscription Box
The Belgian beer club is fit for everyone. Our subscription box does not only have just 1 size, but we have 3! If you are only looking to taste a few new beers each month you can go with the smaller package. But if you are looking to dive deeper into the range of fantastic Belgian beers and discover some new favourites then you can go with a bigger package.
Our subscription has 3 tiers!
– 6 beers a month.
– 12 beers a month.
– 24 beers a month.
All of these will include a selection of beers from our website. It's a great option if you are one for surprises! They also make a great gift for someone who you know is a big beer enthusiast.
These are some of our most popular beers, which you could potentially get in your box. We think our Belgian beer club is an excellent option if you can't lay your finger on which beers you want to try.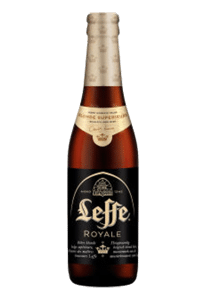 Leffe – Royale
Leffe Royale is a top fermentation beer, made from not 1, not 2, but 3 different hop variations. This beer is eager to flood your taste buds with an array of flavours. Hints of bananas and citrus hops produce this amazing fruity twang. Coupled with a strong presence of vanilla this pairing is the perfect balance between bitter and sweet.
The Leffe Royale is definitely one beer which could make its appearance in your monthly box. Talking about appearance, this beer has a rich light orange colour with a high carbonation. Lets not forget the small, white foamy head which rests at the top.
This is a high quality blonde beer which has a sweet, yet candy aroma. The smell of hops and grapefruit is very dominant which complements the fruity taste.